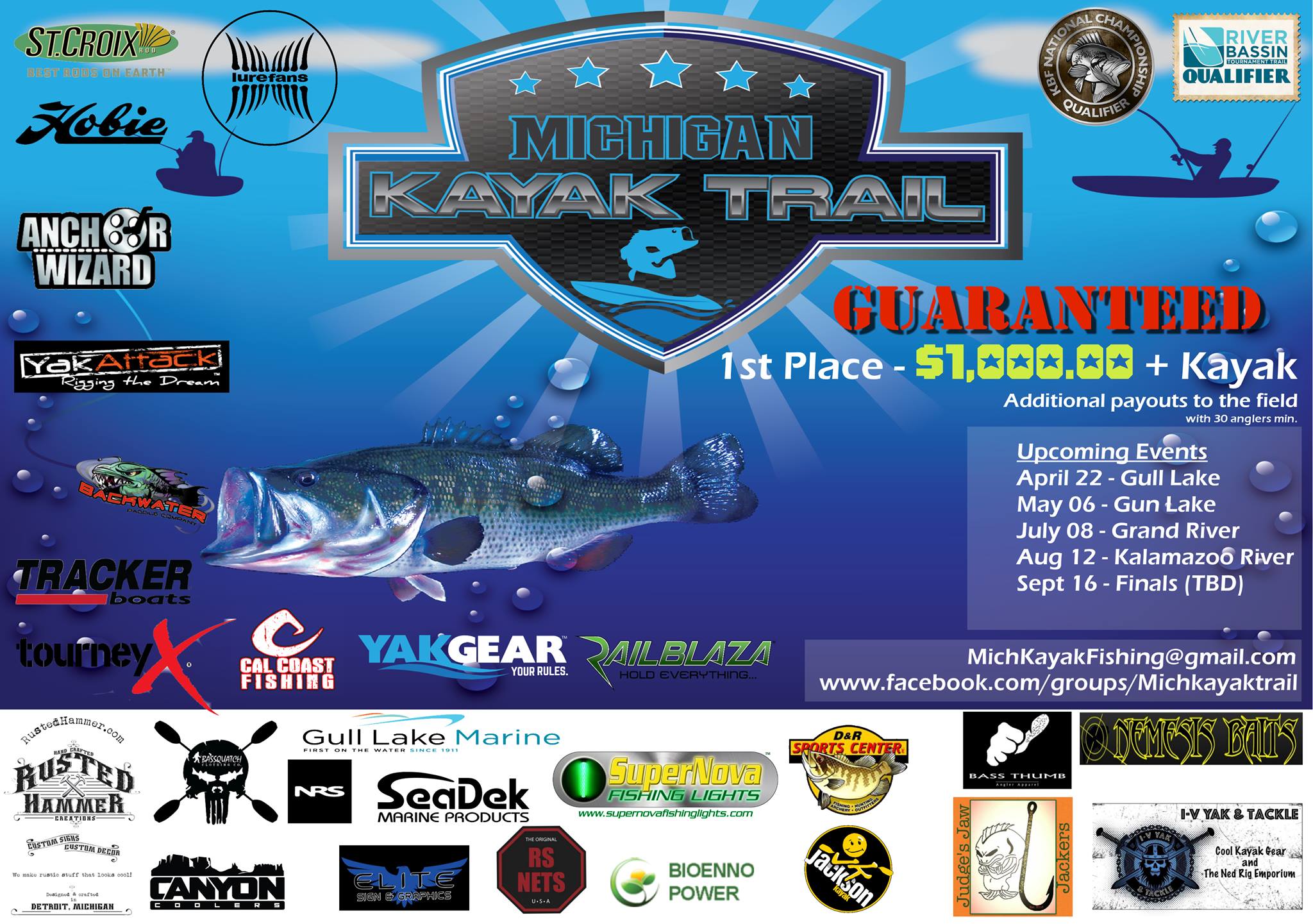 Michigan Kayak Trail- GUN LAKE
May 6, 2017 @ 6:30 am

-

5:00 pm

|

$50
Registration: https://tourneyx.com/app/category/mkt,-mi/
$1,000 to First (with a min of 30 competitors) plus a Hobie Kayak!! Payouts to additional 1 spot for every 7 anglers.
The Michigan Kayak Trail aims to introduce more avid kayak anglers into the fun of kayak fishing with low entry fees and big prizes. The MKT is an evolved version of last season's highly successful Michigan Kayak Fishing Series, with principals Tom Mullins and Russell E. Wilson spearheading the catch-photo-release tournaments.
The Trail will have four qualifying tournaments and a championship. A new kayak will be part of the first-place prize for each of the tournaments; the angler who wins Angler of the Year will also receive a new kayak. AOY Standings will be based on a 99 point system (99 points for 1st, 98 points for 2nd, 97 points for 3rd and so on). A fish must be scored to earn points or a 0 score for AOY standings will be accumulated.
The Top 5 Anglers in the MKT series will earn a spot to compete at the 2018 Kayak Bass Fishing National Championship for a mininium $35,000.00
Captains meeting: 6:30 AM
Start Time: 0700
End Time: 1500
Entry fee: $50
First place will be guaranteed $1,000 cash (with a min of 30 entries) and a Hobie Kayak with additional payouts for 1 spot for every 7 anglers of the field. Additional sponsor prizes and awards TBD.
Rules will be based off of the standardized KBF (Kayak Bass Fishing) rules, so please become familiar with these before the event. http://www.kayakbassfishing.com/kbf-rules-standards/
The scoring / penalty process is slightly different than the 2016 MKFS. No electric motors are allowed.
Tourney X Registration link to follow shortly!!
Share This Story!