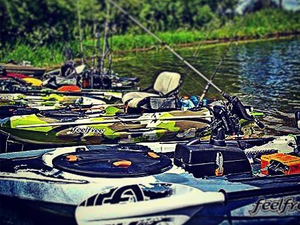 Kayak Fishing DEMO event/used gear sale
April 23, 2017 @ 9:00 am

-

3:00 pm

|

free!
Kayak Anglers of the Midwest and Summit Sports are coming together to make an amazing event!
A demo event with high end fishing kayaks from FeelFree, Hobie, Wilderness and more!!!
Take out a high end fishing kayak with the guidance and support of an experienced angler and/or a pro angler to get the real feel of a kayak before making an investment into the kayak of your dreams!
Not just paddling for a few minutes to see if it feels right..but a few hours on the water trying out new kayaks, new gear and meeting great people in the sport!
If you are attending these events and do not have fishing rods, tackle..etc, please message us at least a week ahead of time in order to make sure we have enough extra gear for you to get the full experience in the demo event.
ALSO……
We will set up tables to display some new and used gear for sale too! Anglers can bring gently used gear that they no longer need or are willing to part with. You can trade, sell and buy from other anglers! there will also be some new gear for sale as well.
All sales/trades/transactions are solely between you and the other angler and in no way will go through Kayak Anglers of the Midwest or Summit Sports unless the said products are being sold by these parties.
If we can keep these events mature and be responsible, these events could greatly benefit the sport as a whole and help newer anglers land some good gear for a good price and get everyone involved in the positive growth of the sport. (used gear includes rods, reels, tackle, PFD, accessories, finders..etc) as of right now, it does NOT include selling used kayaks since there will be brand new kayaks provided for these events for people to try out and to be fair to the brands helping to put this event on.
Share This Story!